What is the DOSER?
Product Description
A Breakthrough for All Inhaler Users
DOSER Features and Benefits Chart
Easy Setup Instructions
Frequently Asked Questions
• Part 1
• Part 2
• Part 3
DOSER Specifications
DOSER Simulation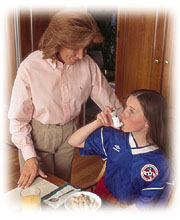 Frequently Asked Questions, Part 3
I pressed on the DOSER and it counted a puff, but nothing came out of the inhaler - why?

You may be holding the inhaler incorrectly. You should be pressing firmly in the center of the DOSER, using two fingers. Consult with your doctor or healthcare provider about proper inhalation techniques.



I took a puff from my inhaler, but the DOSER didn't count it - why?

Either the DOSER has reached 0, or you are taking the puffs too close together. The DOSER stops counting once the "Inhalations Remaining" number has reached 0. When the "Inhalations Remaining" number has reached 0, you should discard the old canister, get a new canister, and reset the DOSER to the number of inhalations in the full canister. The DOSER requires at least a one second interval between inhalations. If you don't wait at least one second before taking a second inhalations, the DOSER will not register the second puff.



If I have a problem with the DOSER, how can I get help

The DOSER's manufacturer, MEDITRACK Products, has a toll-free number which you can call between 8:30 AM and 5:30 PM EST, Monday through Friday. Their number is 1-800-863-9633.