What is the DOSER?
Product Description
A Breakthrough for All Inhaler Users
DOSER Features and Benefits Chart
Easy Setup Instructions
Frequently Asked Questions
• Part 1
• Part 2
• Part 3
DOSER Specifications
DOSER Simulation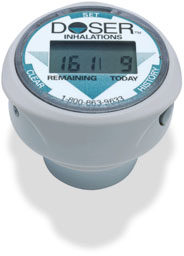 The DOSER's Features and Benefits
DOSER's™ Features

DOSER's™ Benefits

• Displays the number of inhalations remaining in the inhaler.· Three "beep" alert informs user that fewer than 20 inhalations remain in the canister.

• Those with respiratory conditions, and the parents of asthmatic children, can avoid being caught without medication.

• Displays the number of inhalations taken during the current day.
• Enables easy monitoring for better self care. Makes following doctors' instructions easier, especially for those on daily medication.

• Parents can better monitor children's medication usage.
• Stores up to 30 days usage history in a separate memory, which can be reviewed at any time, with the press of a button.
• Healthcare professionals are able to accurately monitor their patients' compliance with preventative medication, and the over/under use of rescue medication.

The DOSER works in conjunction
with most Rx* inhalers
(and may be transferred
from inhaler to inhaler).
* Except Atrovent and Tilade.