What is the DOSER?
Product Description
A Breakthrough for All Inhaler Users
DOSER Features and Benefits Chart
Easy Setup Instructions
• English
• Spanish
• French
Frequently Asked Questions
• Part 1
• Part 2
• Part 3
DOSER Specifications
DOSER Simulation
DOSERTM Easy Set Up Instructions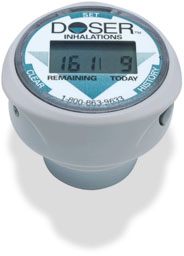 For first time use:
Follow steps 1-3
For resetting a new inhaler:
Just follow step 3
1. To turn the DOSER on:
Press and release the "clear" button, the unit wakes up and displays "0|0"
2. To set the clock:
Press and release the "set" button
Press and release the "history" button
Press and hold the "set" button. Hold it until you reach the hour that is closest to the current time, then release the set button
Wait a moment and the screen will go back to "0|0"
Just Remember: Set, History, Set
3. To set the number of
inhalations:
Look at the side of the canister to identify the number of inhalations
Press and release "set", the number on the screen will flash
Press and release "clear", the number continues to flash
Press and hold "set", hold until you have reached the number of inhalations in your inhaler
Just Remember: Set, Clear, Set
You can count on the DOSER!